Description
TS Imaging Star 65mm f/6.5 Quadruplet Astrograph (TSAPO65Q) – 65mm aperture / 420mm FL
4 element APO telescope with field correction for Astro-Photography – 2″ RP focuser – FPL53 glass
The TS Quadruplet Astrograph 65mm f/6.5 of the TS Imaging Star Line offers a highly corrected focal plane for astro photography and is therefore an excellent alternative to the Takahashi FS-60 or the Pentax 75 SDHF.
It is fine crafted and optimal for mobile deep-sky imaging featuring a minimum mechanical length of 340 mm (with retracted dew cap).
Image quality on- and off axis is perfect and the very low chromatic abberation allows a visual magnification range up to 150x.


TS APO 65 Quadruplet advantages:
— fully corrected triplet lens group for colour-free imaging
— integrated field flattener (4th lens) for a corrected fiels up to full-size sensors
— optimized flattener position inside the tube for best effect
— 2″ dual speed focuser for high loads – no slipping, no shifting
— 360° rotation possibilitiy for ideal framing
— CNC tube rings
— finder shoe (Vixen/Celestron/Sky-Watcher compatible)

This focuser combines the advantages of a rack & pinion focuser with an improved bearing system.
A Crayford design has its optimal stiffness only when the drive shaft is pressed firmly against the rail – this causes bucky operation.
The fine machined cograil allows smooth focusing even under heavy loads up to 3 kg.
The focuser also features a 2″ and 1.25″ receptacle with brass compression rings. 2″ accessory is locked by two thumbscrews – this prevents tilting.
The 65mm Quadruplet's optical system – four lenses in two groups:


For this lens system FPL-53 glass is used for optimal colour correction. Stars are free of colour fringes and halos which may occur with camera-side corrector applications.
The fixed internal ED flattener causes an optimal image correction for sensor with a diagonal up to 44 mm. With a separate lens brought into the focuser, this can hardly be reached. This highly corrected system is additionally supported by a adequate baffling system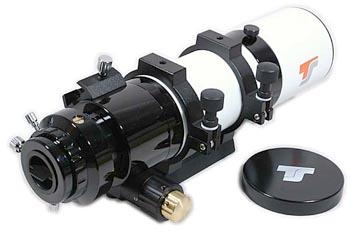 — Aperture: 65mm
— Focal length: 420mm
— Photographic speed: f/6.5
— Diameter of the corrected field: 44mm
— Weight: 2.8 kgs (with tube rings)
— Focuser: 2″ RP with improved bearing, 360° rotation and ring clamping
— Mechanical length: 340/375 mm with retracted/extended dew cap
— Resolution: 1.78 arc seconds
— Limiting visual stellar magnitude: 11m6
— Diameter of the dew cap … 88mm (for solar filter)
Your Package will Contain…
— optical Tube with focuser
— CNC Rings
— Vixen level dovetail rail
— Finderholder
TS 65mm f/6.5 Quadruplet Astrograph … tested at ScopeTest.com
….

Link to the Test
Image with optional RDAV finder…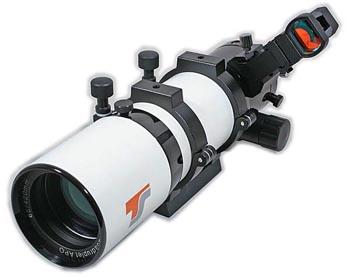 Firstlight with the Quadruplet 65mm from Tobiasz Jakubowski